Berkshire councils' rat charges range from £10 to £114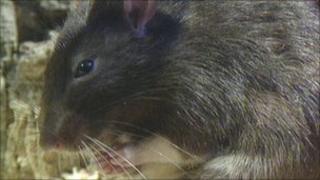 After an 80-year-old bedridden woman was bitten by a rat in Reading, it has emerged that her local council charges £114 for pest control while the nearby authority in Slough charges only £10.
Other boroughs across Berkshire and neighbouring South Oxfordshire offer subsidised rates to encourage people to deal with the problem professionally and control disease spread by the rodents.
"This is due to rats and pest control in general being one of our top priorities and to protect public health," said a spokesperson for Slough Borough Council, which can reduce the rate to just £5 in some cases.
South Oxfordshire District Council asks residents for a £26 contribution to its pest control service.
Leader of the council Ann Ducker said they offered a subsidised service "to deal with the most serious pests such as rats, that would spread quickly if untreated".
Elsewhere in Berkshire, Bracknell Forest charges £47, Wokingham Borough charges £56.50 and Windsor & Maidenhead charges £35.
Infestation
Reading Borough Council spokesman Oscar Mortali said the decision to charge a full commercial rate had been made by "the previous administration".
But he said the new regime was "monitoring the charge closely with a view to reviewing it if deemed necessary".
He added that £114 was "fairly comparable" to what private firms charge.
But Kevin Higgins, of the British Pest Control Association, said it was important for councils to offer subsidised charges because high costs could lead to an exacerbation of the problems caused by rats.
"People who can't afford to employ commercial companies then look for advice to deal with it themselves and it gets worse," he said.
"You come across all sorts of situations now because they are trying to deal with the rats themselves and they end up living with a degree of infestation."
Rat 'explosion'
West Berkshire Council has not offered a pest control service for 11 years, despite the presence of rats in large populations which are largely immune to commercial poisons.
Graham Chapple of Rapid Pest Control, based in West Berkshire, said that there had been "an explosion of rats" in Newbury that amounted to a "genetic modification of a rat species".
"It's a little known fact that Newbury is the epicentre for rat resistance," he said.
"About 20 years ago farmers in the area put poison down left, right and centre and over a period of time the rats would consume non-lethal doses and genetically become immune.
"All the anti-coagulant poison we use is 90% ineffective."
West Berkshire Council said it voted to stop providing a pest control service because of the "vibrant private market for it and it is not a statutory duty for the council".
Mr Chapple said West Berkshire residents sometimes tried to cut costs by dealing with the problem themselves.
"People resort to buying their own poison which makes matters worse," he said, "because for the rats it's now a food source."