Thatcham honours Royal School of Military Survey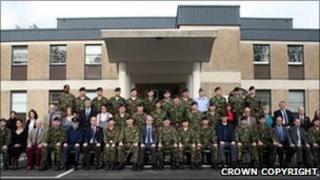 More than 100 troops will parade through Thatcham in Berkshire after an army training unit was given the freedom of the town.
It marks the 60-year relationship between Thatcham and the Royal School of Military Survey, which is based at Denison Barracks in Hermitage.
The town wanted to celebrate the school's "outstanding contribution" to defence training, its mayor said.
People are invited to line the streets in support of the troops.
Thatcham mayor Lee Dillon said: "The freedom of the town means they will be able to march through the streets town on all ceremonial occasions with their colours flying, their bands playing as well as drums beating and bayonets fixed."
The parade will take place at 1315 BST.
Soldiers from the Royal School of Military Survey (RSMS), The Band of The Corps of Royal Engineers, representatives of the Royal British Legion (Thatcham Branch) and the Royal Engineers' Association will march from Brownsfield Road along the A4, the High Street and then into Thatcham Broadway where a ceremony will take place.