Children's respite care unit in Maidenhead to close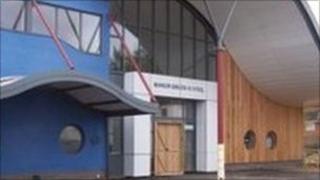 A Berkshire respite care unit for children is to close 10 months after opening, despite parents' protests.
The unit at Manor Green special school closes on Friday and the Royal Borough of Windsor and Maidenhead has said it does not know when it will reopen.
The centre provides overnight care for children with severe learning disabilities.
The local authority said the decision was due to reductions in central government respite care funding.
'Very upset'
Carole Streeter, whose daughter Rebecca uses the unit, said attending the 24-bed respite centre had taught her daughter essential life skills.
She said: "I am very upset, because there are some people I know that are up over a dozen times a night every night, seven nights a week, so having that night in which you can sleep brings some normality to life."
Windsor and Maidenhead Council said that neighbouring authority Buckinghamshire County Council had decided to stop sending children for respite care at the Maidenhead centre and there was not sufficient demand to keep the unit open.
Buckinghamshire Council Council said it was no longer using the service because the school raised the price from £40 per night to £350 per night in January.
Director of children's' services, Cliff Turner, said: "We put our prices up because we didn't think it was right to subsidise what we were offering to our neighbours with our own council tax payers' money, because government grants to local authorities have been squeezed and because we have more freedom about how we spend those grants."
The centre opened as part of a £26m specialist school which replaced Holyport Manor last September.
Mr Turner said the council would close the centre and review its future purpose.
In a statement, the council said: "Everyone concerned wants to make sure that the excellent facilities are used to best effect and that the provision reopens as soon as possible."