Middleton family shopkeeper is sentenced for fraud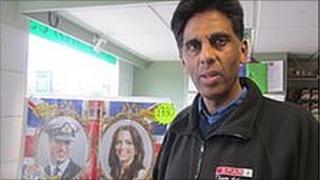 A shopkeeper who attended the royal wedding as a guest of the Middleton family has been given an eight-month suspended prison sentence for fraud.
Hasmukh Shingadia, 51, admitted false accounting between December 2008 and March 2010 at Oxford Crown Court.
The Duke and Duchess of Cambridge used to be clients at his Peaches Spar shop in Upper Bucklebury, Berkshire.
He had stolen more than £16,000 of Post Office money from his shop's sub post office to prop up his business.
The missing amount came to light during an audit last year. It has since been repaid in full, the court heard.
'Deeply impressed'
Shingadia's shop was near the Middleton's family home.
Recorder Wallace said: "Mr Shingadia was a man of previous exemplary character. I've never before received so many tributes to the character of a defendant and I am deeply impressed."
Shingadia, whose prison sentence is suspended for one year, was also ordered to carry out two hundred hours of unpaid work and pay £2,669 in costs.
At an earlier hearing, Nigel Daly, defending, told the court his client was suffering a cash flow problem at the time with the non-Post Office side of his business.
He said he had always intended to pay back the money.