Berkshire racing industry backs changes to levy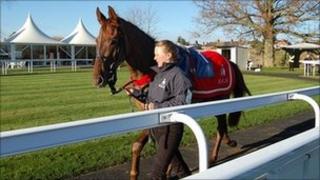 At the George VI and Queen Elizabeth Stakes at Ascot Racecourse on Saturday, prize money of £1m is up for grabs in just one race.
But away from Ascot's most important event of the year, it is a very different story for the industry..
Prize money is falling because of the rise in online betting and increased betting on other sports, according to insiders.
Half of the sport's prize money currently comes from a levy on bookmakers' profits.
Racing expert Sasha Hooper said the changes were having a "huge impact".
"The changes to prize money means less jockeys are coming into the industry and owners have less incentive to have a racehorse."
Income from the levy, a percentage of bookies' profits taken to fund prize money in horse racing, dropped from £115m in 2008 to £59.8m in 2010.
The changes mean that horse owners, trainers and jockeys are finding it increasingly unprofitable to operate in the sport.
Berkshire is home to three major racecourses at Newbury, Ascot and Windsor.
Newbury Racecourse, which is worth £60m to the local economy and attracts up to 30,000 people for race day, says its share of prize money from the levy has dropped by £1.2m.
Managing director Stephen Higgins said the number of horses being bred for the sport had "dropped dramatically".
He said: "The likelihood is there will be less races moving forward both at Newbury and around the country."
The British Horseracing Authority says the system is no longer "fit for purpose" and they have called for drastic changes to the old levy system, which means bookies pay for prize money in racing from a percentage of their profits.
Dirk Venn is from the Association of British Bookmakers.
He said betting on horse racing had declined from 80% of all bets placed to less than half due to competition from other sports.
"It's down to a younger generation coming to the shops and betting not just on horse racing but football and other sports," he said.
The Department for Culture, Media and Sport (DCMS) has pledged to change the licensing regime for remote gambling but says there is no legislative slot currently available to bring the proposed changes about.
Minister John Penrose has announced that in future, all gambling operators selling into the British market - whether based in the UK or abroad - will have to obtain a licence from the Gambling Commission.