Bedridden rat-bitten woman in Reading dies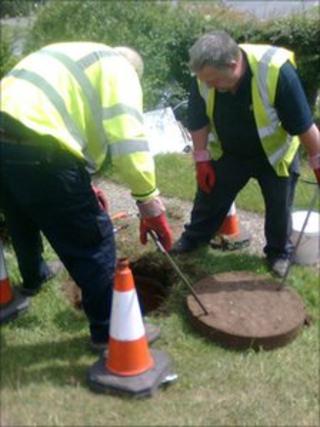 A bedridden woman in her 80s who was bitten by a rat amid an infestation in a suburb of Reading has died in hospital.
The woman and the family living next door were evacuated from their homes in Southcote in the Berkshire town in the beginning of July.
Police said she died two weeks later but her death was not believed to be related to the rat bite.
Reading Borough Council and Thames Valley Police are investigating.
The infestation has spread in the Byefield Road, Hatford Road and Brunel Road area of Southcote.
A Thames Valley Police spokesman said the woman died between 14 and 15 July and a post-mortem examination had been inconclusive.
Further tests are being carried out but could take up to three months, he added.
Source of infestation
He said police were working with partner agencies to investigate the living conditions the woman was found in at her home in Byefield Road in late June.
Reading Borough Council said: "The council was extremely sorry to hear that a Byefield Road resident had passed away and sends its sincere condolences to the family.
"The council will continue to pass any information it has to the police to aid them in their investigation.
"Extensive work to identify the source of the infestation, which the council began the week before last, is continuing. This includes the laying of bait and drainage surveys in the localised area."
The council said its environmental health team had been working with Thames Water.
"The council's priority is to continue our investigation and provide the necessary support to householders," a spokesperson added.