Olympics venue at Eton Dorney launches volunteer search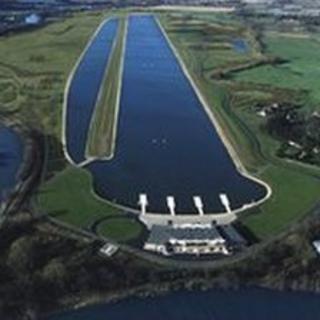 Olympics venue Eton Dorney is celebrating one year to go until London 2012 by launching a volunteer search.
The Buckinghamshire rowing and canoeing venue, owned by Eton College in Berkshire, is calling for 500 helpers from both counties.
Olympic gold-medallist rower Ben Hunt-Davis is part of the launch event.
He said: "Today marks the start of the final countdown and we should be excited about welcoming an estimated 30,000 spectators to Eton Dorney."
Volunteers aged 18 and over will be given training to NVQ level in spectator safety and will act as meeters and greeters at 14 places including nearby railway stations, park and ride sites and town centres.
Mr Hunt-Davis said: "The aim during Games time is to have trained personnel on hand to welcome all visitors, whether they be local or from around the world."
The venue, near Windsor in Berkshire, will host the Olympic and Paralympic rowing and flat water sprint canoeing events.
Community disruption
Deputy leader of Windsor & Maidenhead council Simon Dudley said that the one-year countdown will help to kickstart the "excitement" for local people.
"People know that there is a very good chance Great Britain will do well at Eton Dorney so it's going to be particularly exciting for our residents given that it's right next to the local borough."
He added that the council was "working closely" with London 2012 organisers to minimise disruption to the local community.
He said 30,000 spectators were expected to come to Eton Dorney on each day of the Olympics.
Transport plans for Eton Dorney include three designated Olympic railway stations at Slough, Maidenhead and Windsor & Eton Riverside and four proposed park and ride sites.
Windsor Racecourse will become a transport hub with a temporary footbridge crossing the Thames from the racecourse to the Eton Dorney events.
Temporary local traffic proposals include a 'clearway' route on the A308 Maidenhead Road and residents-only parking zones in local streets.
Windsor Racecourse will be used as a car park during the Olympic events.
'Great opportunity'
Mr Dudley said: "Many people will want to carry on with their lives while the Games are taking place and we need to make sure the arrangements take account of their needs as well as of those travelling to Eton Dorney."
The council said 12 Windsor and Maidenhead-based companies and organisations had been awarded Olympic Games supplier contracts.
"This is a great opportunity to showcase our town," said Mr Dudley, "it's got to be good for all our local businesses."
The Olympic competitions at Eton Dorney will run from 28 July to 11 August and the Paralympic events from 1 to 3 September.