Slough urinating cab driver given penalty points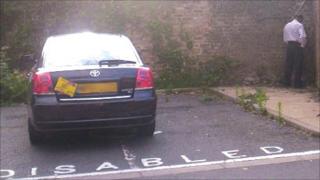 A cab driver has been given penalty points by a Berkshire council after being caught on camera urinating in a Slough road.
The driver, who has not been named, admitted the offence and was given six points on his private hire licence.
A Slough council spokesman said the driver had "apologised profusely".
But Colin Davey, who lives in Kenilworth Close where the offence happened, said he had been "promised" more serious action by the council.
Mr Davey first photographed cab drivers urinating outside his home more than a year ago.
'Suspended or revoked'
A letter from the council to Mr Davey in August 2010 stated that it would recommend any drivers caught urinating in the close would have their licence suspended or revoked".
The 60-year-old said the council's decision to issue six penalty points instead had been "disappointing".
"This has not taken in to account the feelings of the residents who have to witness this disgusting behaviour," he said.
Under current Slough Council policy, a cab driver can clock up 12 points in a year before being referred to the licensing team.
Council licensing manager Mick Sims said: "The driver apologised to the council profusely, and as there had not been any complaints since last year and as the police have not taken any action on this occasion, we took the decision to issue the driver with the six penalty points."
He added that "more serious action" would be taken if the same driver continued his previous behaviour.