Reading rats: Baiting area may be widened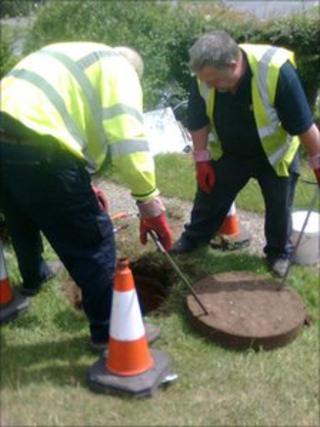 Rat experts have said they may have to widen the baiting area to deal with an infestation in a Reading suburb.
The move comes after a woman in her 80s was bitten by a rat and later died - though police said her death was not thought to be related to the bite.
The rat outbreak in Southcote has spread in Byefield Road, Hatford Road and Brunel Road.
An investigation has identified a drain as the likely source of the infestation.
Two houses in Southcote were evacuated because of the rats. The families are still in temporary accommodation.
Alison Sullivan, who lives in one of the affected houses, said they had let the council know about the rats for the past three years but a letter from the local authority on 4 July stated "there was no problem with rats".
A council spokeswoman said: "All current evidence points to a drainage source and that is where efforts continue to be focused."
Thames Water asset management director Bob Collington said the company was assisting "by baiting, trapping and poisoning the rats that have been using our network as a means to get to their food sources".
He added: "It was agreed that we would widen the baiting area if necessary until we are satisfied the problem has been removed."
Thames Water and Reading Borough Council are meeting on Friday to discuss any progress made.