Slough sewage works to hold first open day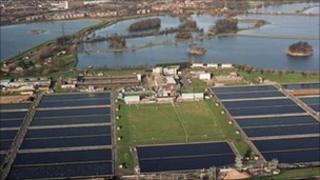 A Berkshire sewage treatment works is opening its doors to the public for the first time.
The site in Wood Lane, Slough, treats waste water from 250,000 people and is the first in Britain to make commercial quantities of fertiliser from sewage.
Visitors can take a tour to see how waste is treated from start to finish and learn about the site's nutrient recovery facility.
The treatment works has been dealing with waste since 1938.
It creates renewable energy from left-over solid waste to power 65% of the plant.
The first open day is on Saturday.