A Genuine Freakshow to play Reading Festival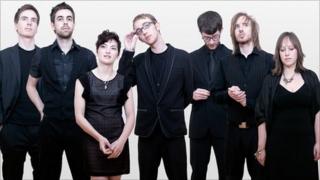 A Genuine Freakshow from Reading has been selected as one of the bands to play on the BBC Introducing stage at the Reading and Leeds festivals.
A judging panel chose the band from hundreds nominated by both regional and national BBC Introducing presenters.
"We're absolutely chuffed, we're really excited," said guitarist Simon Evans.
There are 31 bands playing on the BBC Introducing stage across the weekend of the festivals, which is from Friday 26 to Sunday 28 August 2011.
Simon said the band at first did not believe their manager who sent on the email confirming their slot.
"I sent an email back to him asking 'is this for real? Is this a joke?'," he said.
"We did wonder if it was just our manager playing a prank on us."
It was not until BBC Introducing Berkshire's Linda Serck got in touch that they knew it was a genuine offer.
Baroque pop
Calling themselves a baroque pop group and a "pop-infused post-rock cannonade", the band formed in 2005 and settled on their current seven-piece line-up in 2008.
Simon said that playing for BBC Introducing at the Reading and Leeds Festivals seems surreal.
"It'll sink in just before we go on. When we actually get on stage and start playing we'll believe that it's actually happening".
He adds that festival-goers may be treated to some some new material as well as songs from their debut album Oftentimes, released in November 2010.
"We're writing some new stuff at the minute and we're hoping to have one or two done by the time the festival comes around."
Catch A Genuine Freakshow at the Reading Festival on Sunday 28 August.
Visit the BBC Introducing site for the full line-up.