Berkshire community responder numbers on the rise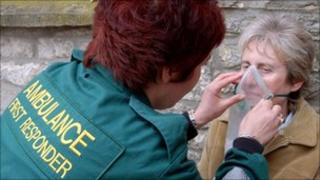 David Cleveland was enjoying Christmas Day 2007 at home in Berkshire with his family when he went into cardiac arrest.
"It was in the evening, and I had collapsed, had no pulse and wasn't breathing," he said.
Community First Responders (CFRs), who are volunteers trained by the ambulance service, arrived within minutes and helped to save his life.
"They were able to restart me and I'm still here thanks to them," he said.
"I would otherwise be little more than a vegetable."
The CFRs were able to pass on a medical assessment to the ambulance crew when they arrived and Mr Cleveland made a full recovery after a week in hospital.
'Lifesaving treatment'
South Central Ambulance Service NHS Trust is looking for more CFRs to join in rural areas to help people like Mr Cleveland for whom each second counted to prevent brain damage.
It comes after a previous recruitment drive led to the number of CFRs in Berkshire almost doubling since last year, with 286 volunteers in 2011 compared to 154 in 2010.
The combined total for neighbouring counties Oxfordshire and Buckinghamshire is 320 compared to 230 a year ago, while Hampshire currently has 515 compared to 403 in 2010.
Nicola Morecroft, from the South Central Ambulance Trust, said the volunteers respond to medical emergencies within a three-mile radius of where they live.
"This is why their response time can be quicker than ours," she said.
"They provide lifesaving treatment prior to the arrival of an ambulance."
A volunteer's kit includes oxygen and defibrillation equipment.
'Fantastic job'
Ian Hammond, 70, became a CFR in Swallowfield and Spencers Wood, Berkshire, when he spotted an advert in a shop window.
His team of five provides coverage for 300 hours a month and works on a rota system.
The volunteers include a 19-year-old who will be studying paramedic science at university and a young mother of two.
Mr Hammond said he was quickly able to treat two people injured in a recent house fire at the end of his road.
"Frequently we arrive well before the ambulance," he said.
"We're also local people so we have local knowledge and can be there within five minutes."
Mr Cleveland, who lives in Burghfield, said he was able to leave hospital and "lead a completely active and full life".
He said: "They do a fantastic job and I just can't praise them enough."