Cow stampede in Berkshire 'nearly killed' Emma Gregory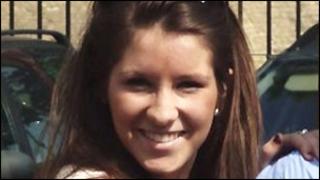 Teenager Emma Gregory believes she could have died when she was trampled by a herd of cows as she cycled home.
The 16-year-old was left with bruised ribs, cracked teeth and a dislocated jaw during the incident, in Wargrave, Berkshire.
A passer-by alerted emergency services and Emma was airlifted to Wexham Park Hospital in Slough.
Her Golden Retriever Skipper suffered a broken back and had to be put down a few days after the attack, on 7 July.
"I was screaming and my dog was crying," Emma said.
"I used the bike as a shield but they kicked it over and about 30 circled us and attacked for about ten minutes."
Signs 'vandalised'
It is believed the herd felt threatened by the presence of a dog in the field and attacked in order to protect their calves.
Emma's mother Christine is now campaigning for better signs to warn people of the potential dangers of crossing a field containing cattle.
"The anger is about the fact that there weren't any signs at all on this public footpath," she said. "Kids are going to walking through it this time of year."
Tenant farmer Paul Thomas, responsible for the cattle, said his signs had been ripped down by vandals.
"[However] we don't keep anything of the wrong temperament," he said.
"Anything that's slightly questionable we make sure we keep away from the public."
'Kicking and stamping'
Emma said she felt very lucky her injuries were not much worse.
"I could have died," she said.
"They were on top of me kicking and stamping with their hooves. I couldn't push them off.
"I was terrified."
She eventually managed to escape and "flung" herself over a barbed wire fence.
The Government's Health And Safety Executive figures show three people died in 2010 after being trampled or knocked down by cattle.