Timmy Mallett set for Maidenhead Hollywood-style walk of fame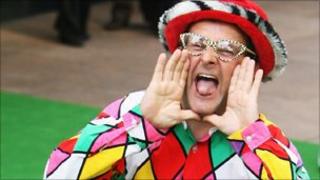 Timmy Mallett and Rolf Harris could be honoured in a Hollywood-style walk of fame in a Berkshire town.
Maidenhead centre is being regenerated and a local councillor would like to see a pavement of stars recognising the celebrities who live in the area.
These also include Sir Roger Moore, Sir Michael Parkinson and Nick Faldo.
Windsor and Maidenhead councillor Derek Wilson said: "Windsor is renowned for royalty and I felt Maidenhead ought to be famed for its celebrities."
Rolf Harris is originally from Australia but has lived in Bray, a village just outside Maidenhead, for about 30 years.
The village is also home to Michael Winner and Heston Blumenthal's restaurant The Fat Duck.
Mr Wilson, chairman of the council's Maidenhead Development Control Panel, said he would also like to see Kate Winslet, who went to school in Maidenhead, and the late Diana Dors honoured.
He added that the pavement stars would initially feature their names and description of what they've been recognised for.
"To put hand prints in the pavement is a nice idea but let's just get the idea off the ground first."