Bucklebury royal wedding postman to appeal dismissal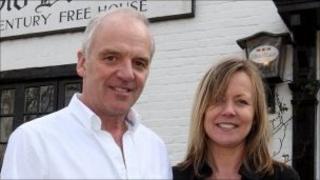 A Berkshire postman who was invited to the royal wedding by the Middleton family has been dismissed from his job.
A petition called Saving Postman Ryan has started near Bucklebury, where Ryan Naylor worked, to get him re-instated following the decision by Royal Mail.
A Royal Mail spokesman said a postman had been dismissed after a quantity of mail appeared to have been "wilfully delayed".
The Communication Workers Union (CWU) said it would appeal the decision.
'Good postman'
John Haley, the landlord of the Old Boot Inn in Stanford Dingley, near Bucklebury, has collected 50 signatures on the petition.
Mr Haley was also invited to the wedding of the Duke and Duchess of Cambridge due to his connections to the Middleton family.
He said: "He's a very, very good postman, dedicated to the community. He loved everyone. He used to be a bit slow but nobody worried about that.
"He's been a postman for many, many years."
In a statement, Royal Mail said: "It is a serious offence to tamper with or delay the delivery of mail.
"We have a zero tolerance policy in this regard."
A spokesman for the CWU said he did not want to comment on the dismissal other than to confirm Mr Naylor would be appealing the decision.
He said the petition could be used to support his case to be re-instated, as an indication of good character.