Reading wind turbine used to charge electric cars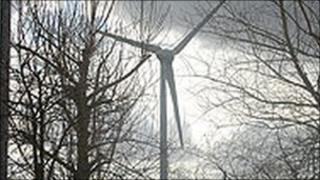 A Berkshire wind turbine is said to be the first in the country to be used to top up the charge on electric cars.
The turbine, located close to the M4 in Reading's Green Park, had been branded ineffective by the Renewable Energy Foundation due to lack of wind.
The foundation said Reading gets less wind than other UK locations.
But Ecotricity, the company which runs the turbine, said it was well placed to allow electric cars to be topped up on long journeys.
The company said there were currently about 2,000 electric cars in the UK.
At present it takes four to five hours to fully charge an electric car, which can then be driven for 100 miles before running out of power.
Dale Vince, of Ecotricity, said: "We had the big windmill in Green Park and we thought, we've got this spot along the motorway, why not put this turbine there?"
He said it was the first charge post to be powered directly from a windmill.
Topping up the car takes 20 minutes and can allow drivers to continue long journeys without worrying they will run out of charge.
Other charging points have been created at Michaelwood Services on the M5 in Gloucestershire, and at South Mimms Services on the M25 in Hertfordshire.
According to Ecotricity, the Department for Transport said they "expect to see tens of thousands of plug-in vehicles on the roads in the UK" by 2015.
The company said it costs 0.5p to drive a mile in an electric car, compared with up to 15p per mile in a petrol-powered car.