Reading Festival police given extra powers again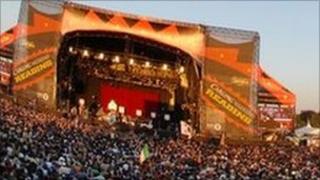 A dispersal order is again in place to deal with any troublemakers at this year's Reading Festival.
Police were given extra powers to deal with troublemakers at last year's Reading Festival after large fires were started at the 2009 event.
Groups of people set tents, hedgerows and rubbish on fire, while fencing was also ripped up. There was also problems with illegal ticket touts.
A dispersal order helped reduce crime at last year's event, police said.
The orders allow police to move on groups of people from certain areas.
They will also be used to break up large groups outside the site of the three-day festival, which starts on 26 August.
'Fun and safe'
Police said they would also use the powers against any "aggressive" illegal ticket touts.
Police signed the dispersal order with Reading Borough Council.
Rachel Eden, of the Labour-run council, said: "We want everyone who comes to Reading Festival to have a fun and safe time.
"We know that the dispersal order at last year's festival gave real results both to reduce crime and improve the experience for festival-goers.
"The council will continue to work with the police in finding ways to try to reduce crime and anti-social behaviour to improve festival-goers experience."
Supt Stuart Greenfield, of Thames Valley Police, said: "This legislation is a preventative measure to stop crime and, policed correctly, I would expect it to reduce the numbers of victims of crime we have at the festival."
This year's Reading Festival has sold out. The headliners are Muse, My Chemical Romance, The Strokes and Pulp.