Berkshire experts to help clean up the Ganges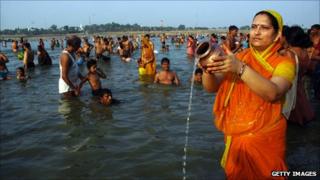 The Ganges in India is to be cleaned up with the aid of Berkshire experts who have helped transform the River Thames.
Thatcham charity the Thames River Restoration Trust (TRRT) will work with small villages along the Ganges to help protect its wildlife and reduce sewage.
The charity is pledging £200,000 towards the project.
It hopes to protect rare freshwater wildlife that are being put under threat by pollution and over-fishing.
Species at risk include the Ganges River Dolphin, freshwater turtles and the critically-endangered Gharial crocodile.
Biologically dead
TRRT was first established in 1986 as the Thames Salmon Trust, which successfully installed fish passes on the upper river of the Thames and on the River Kennet to increase fish stocks.
According to TRRT, in 1957, the River Thames in London was declared biologically dead. Today it is one of Europe's healthiest waterways.
Robert Oates, director of the TRRT charity, who has visited India to set up the project, said the Ganges was similar to how the Thames had been 150 years ago.
"India is going through a massive industrialisation like London was last century," he said.
"The government can't build enough sewage plants to keep pace."
He said he the project would help some of India's poorest people.
'Just tiny fish'
"We're dealing with people who are fishermen. Their catch is down to almost nothing, just tiny fish" he said.
"We're going to provide these families with a rope-making machine, so they can make ropes and sell them, so they won't fish the river."
It is hoped reducing the number of fishermen will encourage fish-eating wildlife to return to the river.
The fishermen will also be enlisted to deter poachers with patrols along the river, just as local people have been encouraged to help stop illegal fishing on the Thames in Berkshire.
Mr Oates said two thirds of all the sewage produced by towns and cities along the Ganges is not treated before it goes into the river.
The World Bank is making a $1bn loan to India to help build new treatment plants for cities along the river.
Create wetlands
However, Mr Oates said sewage and waste from smaller villages also needed to be reduced.
"One of the things we will be demonstrating in the project is that it's possible to involve local people by creating small wetlands and ponds to take waste from taps and toilets and help clean it up before it goes into the river," he said.
It has set up friends-of-the-river groups at more than 20 villages along the Ganges - which is twinned with the Thames.
It hopes to set up similar community programmes along the Thames in order to protect the English river's wildlife and to combat pollution.