Flash flooding in Berkshire closes roads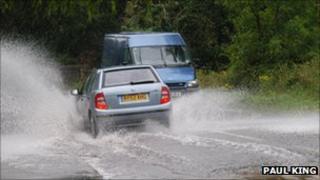 Heavy rain has caused flash flooding across Berkshire, causing traffic problems in Reading and in the borough of Wokingham.
Royal Berkshire Fire and Rescue attended a flooding incident on the A33 in Reading to pump out surface water.
Parts of Emmbrook Road were closed in Wokingham, where a road goes under a railway bridge.
Church Lane in Wokingham was closed between its junctions with A327 Hollow Lane and Basingstoke Road.
A Wokingham Borough Council spokesperson said it was "unlikely that the flood will subside until after 19:00 hours this evening".
Diversions were in place.
St Crispin's Leisure Centre in Wokingham was also closed due to flooding.
Wokingham Council is keeping people updated on its website.
Dawn Howarth, landlady of Rifle Volunteer pub in Wokingham, said: "We've got a very wet cellar at the moment, so we'll have to get our wellies on in a moment and wade through there."
'Freezing water'
In Oakley near Basingstoke, Hampshire, Jane Cole had to abandon her car due to the floods.
She told BBC Radio Berkshire: "I went to go under the bridge.
"It looked like a little bit of water. I started driving into it and it went really deep, water came up under the door.
"The car stopped, so I had to get out and wade out into the freezing cold water."