Crackdown on 4x4s driving over Bucklebury Common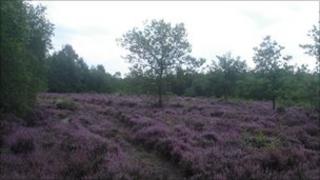 A Berkshire parish council is trying to stop 4x4s and motorbikes riding over its common.
Bucklebury Parish Council is working with West Berkshire Council, police and Bucklebury Estate - which owns the common - to rid it of vehicles.
It said motorbikes and 4x4s frightened dog walkers, cyclists and horse riders, who are permitted to use the bridle ways.
The common is made up of 880 acres of woodland and heathland.
It is home to rare wildlife such as nightjars and open for hikers and cyclists to use.
However, the common's by-laws do not permit access to vehicles and motorbikes.
'Quite spectacular'
The parish council said 20 people were caught driving over the common last year.
Steve Beeson, parish councillor for Bucklebury, said: "It's a beautiful place for walking with lovely woodland, and heathland, which at the moment is quite spectacular.
"But we've had a problem for quite a few years now with 4x4s and motorbikes driving across the common. As it's private property, they're not allowed to do that."
The parish council built banks and ditches last week to keep out vehicles, and restored a natural pond which Mr Beeson said had been "trashed" by people driving 4x4s.
Villagers will continue to monitor the area for illegal 4x4s and motorbikes and will pass their details on to police.