Harry Potter's Miriam Margolyes in Bracknell audiobooks launch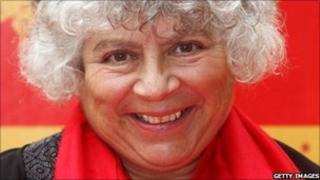 Harry Potter star Miriam Margolyes has been lined up to launch a new audiobook service at a Berkshire library.
The actress and voice-over artist played the character Pomona Sprout in the Harry Potter films.
She will be at Bracknell Library on Friday, 2 September, between 12:30 and 14:00 BST.
She will unveil a new service which allows library members to download their favourite audiobook for free from the library's website.
There will be a demonstration of the download system, while Margolyes will be chatting to visitors and reading from Alice in Wonderland.
There will be 300 audiobooks to chose in the beginning, and borrowers can keep them for three weeks.
Bracknell Forest councillor Iain McCracken said: "We're delighted that Miriam Margolyes will be with us to add some star quality to the occasion.
"She's rightly famous for her work in the Harry Potter films, but she's also well known for her TV appearances in Blackadder and in the West End in the musical Wicked."