River Thames lowered to keep Reading Festival campers dry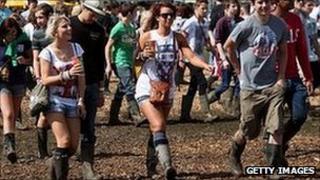 The River Thames close to the Reading Festival site has been lowered by six inches (15cm) to help water drain from the campsite.
The Environment Agency, which controls the river levels, said lowering it gave "more leeway" to combat flooding.
The river levels have been reduced by opening weirs downstream of the site to allow more water through.
Heavy rain is predicted for Friday, the first day of the festival, according to the BBC and the Met Office.
Hail showers are also predicted on Saturday, although the weather should brighten by Sunday.
'Boggy' ground
The Environment Agency said opening the weirs lowers the risk of flooding following heavy rainfall that can have an impact on river levels.
The agency's Sam Elfer said the campsite ground could be "boggy" after rain.
He said: "The festival organisers have pumps which they can use to drain the land."
The Reading Festival, which has sold out this year, will take place in Little John's Farm on Richfield Avenue from Friday to Sunday.
The headliners are Muse, My Chemical Romance, The Strokes and Pulp.