Consultation on new Bath Road Reservoir plan for Reading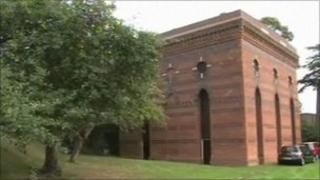 A consultation on revised plans to build homes at a reservoir in Reading will begin next month.
Thames Water was told by the government inspector in January that it could not put 96 homes on Bath Road Reservoir.
The revised plans include up to 80 homes and the Grade II-listed water tower will also be turned into flats.
Local people, who want to keep the brownfield site as a wildlife haven, say they are still concerned about the density of the housing being proposed.
The plans are set to go on display when a public consultation opens on 24 September.
The water company said the reservoir could not be left vacant because it was unsafe.
'Significant concerns'
It has said it would allocate 20% of the space for wildlife, but "turning the whole site into a wildlife reserve would have a substantial cost implication to Thames Water customers".
Reading borough council has earmarked the reservoir for development but it has so far rejected Thames Water's plans for the site.
The firm's revised plans include a reduction in height of the buildings from four to three storeys as well as fewer flats.
Marc Selby, head of property for Thames Water, said: "Our revised planning application will take into account all the recommendations made by the government's planning inspector at the public inquiry last November and address some of the concerns expressed locally.
"The old water tower will no longer be converted for office use but will provide residential dwellings. This will mean less change to the external appearance of the building and retention of more of the original internal structure."
Mel Woodward, of Save the Bath Road Reservoir (STBRR) campaign group, said: "We still have significant concerns around numbers, density, heights and lack of community amenities, however we are pleased about the new proposed use of the water tower, which proposes keeping the internal structure intact.
"That said, any development of the site would have a massive impact forever on the day to day lives of residents living in the vicinity, so we continue to represent residents' views and concerns about how this would be handled."