Watercress thieves target River Kennet in Hungerford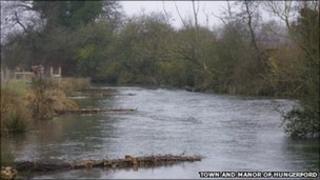 People from an private Berkshire estate who have historic rights to pick watercress say their river is being targeted by thieves.
Two women walking near Hungerford saw a woman and two younger men in the River Dun fishing and filling six large plastic dustbin liners with watercress.
People who live in 100 houses in High Street, Church Street and Bridge Street in Hungerford are known as "commoners".
They have shooting, grazing and fishing rights under centuries-old laws.
It is illegal for others to pick watercress on the estate.
'Apprehend them'
Robert James, Trustee and Honorary Secretary of the Town and Manor of Hungerford, said: "Two ladies who were walking up Freeman's Marsh saw these people were in the river.
"They had black plastic sacks and they were filling them with watercress.
"I had a call at home, so I got in my car and drove off to apprehend them, with two police officers."
However, by the time Mr James and the police reached the river the group of three were no longer there.
The River Dun is a tributary of the River Kennet. Both rivers are included in the watercress rights of commoners.
While land owned by the manor and town is out of bounds to foragers, West Berkshire Council allows people to pick fruit and vegetables on its own land.
Council spokesman Keith Ulyatt said "In the true spirit of the countryside, anyone is free to come and pick blackberries, apples and so on from any council-owned countryside land."