Reading Festival 'reported crime falls'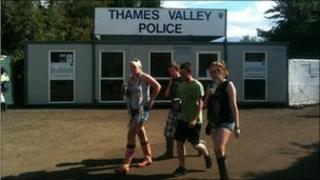 Reported crime at the Reading Festival has fallen by about 50% so far compared with last year's event.
About 140 incidents were reported by midday on Sunday, compared with about 300 in 2010.
Most have involved thefts from tents. Nearly 50 arrests have been made so far for possession of drugs, theft, assault and selling fake wristbands.
Police have got extra powers to deal with potential troublemakers, after fires were started at the 2009 event.
Jade Thomason, 20, of Preston, Lancashire, had her handbag stolen from her tent as she slept overnight on Friday.
"The worst thing is losing my phone," she said.
Supt Stuart Greenfield, daytime commander for the festival, said: "I would urge festivalgoers to ensure they do not leave valuables in their tents.
"At night-time they should sleep with their mobile phones, wallets, and any other valuables in their sleeping bags with them."
Thames Valley Police said people could report crimes on the site at a police station in "Piccadilly Circus".
It said it was also sending out messages on its Twitter feed.