Swinley Forest needs less re-planting than feared after fire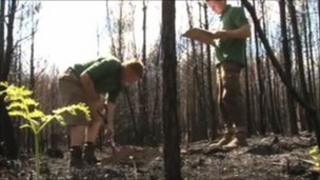 Foresters from the Crown Estate say Swinley Forest will need less re-planting than originally feared after a major forest fire in May.
It was originally estimated that 2,500 acres (1,000 hectares) of the forest were damaged in the fire.
Some 220 acres (90 hectares) of Swinley Forest will need re-planting, with an emphasis on fire breaks in a bid to combat future woodland fires.
Crown Estate chief forester John Deakin said different trees would be planted.
Fire breaks
"Forests by their very nature are flammable areas, but we are designing in wider fire breaks which we can use as better lines of defence and planting different species of trees," he said.
Trees such as oak, sweet chestnut and birch, which are more fire-resistant than young conifers, will be planted.
Mr Deakin said although there had been damage to wildlife, some birds' habitats may even improve due to the clearing of woodland.
"Going forward we will have a much greater area of open space which will provide a good habitat for ground-nesting birds such as Dartford warblers, nightjars and woodlarks," he said.
Mr Deakin said Swinley Forest, which is owned by the Crown Estates and the Forestry Commission, was not insured for fire.
"Re-planting will cost about £200,000 but that probably pales into insignificance to the economic costs of closing the roads for a couple of weeks or to the fire service," he said.
The fire was Berkshire's largest ever woodland fire.