Amputees in Action creates prosthetic throat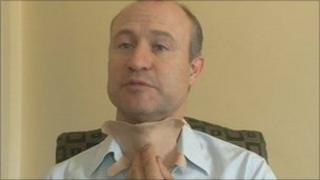 A Berkshire company staffed by amputees has created a new prosthetic throat to train army medics.
Newbury-based business Amputees in Action supplies amputee actors as film extras and to work on military and emergency services exercises.
Managing director John Pickup has created a prosthetic throat to allow medics to practise making an incision to establish an airway.
The invention has been patented as the first Cricothyrotomy FX prosthetic.
The device, also known as the "Crike" prosthetic, is being used in preliminary trials in courses for military medics and clinicians.
'Extreme pressure'
Medics attend battlefield advanced trauma life support courses to teach them new techniques in trauma medicine before going into conflict.
Mr Pickup said using the prosthetic, which is placed on an actor's throat for added realism, puts medics under "extreme pressure".
"Our actors are instructed to do the signs and symptoms as if they were choking," he said.
"It will look and feel as if you are doing it for real."
Mr Pickup said the Crike mimicked the anatomy of the human throat, and allowed medics to gain experience before heading out into "difficult situations".
"They're all going to a difficult place, war zones, dangerous places where they haven't got the back-up of paramedics and doctors and nurses and hospitals behind them," he said.
"They are going to be working in very difficult circumstances."
Mr Pickup had his right arm amputated when he was 17 following a motor bike accident.
He set up his agency for amputees in 2004.
The agency has supplied actors for films such as Gladiator, Shaun of the Dead and Saving Private Ryan, as well as working with the military and emergency services in training exercises.