Plea after litter of puppies stolen from Ashampstead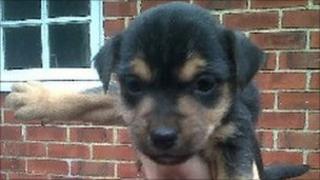 A Berkshire woman has pleaded with thieves who stole a litter of terrier puppies to return them.
Annie Wye noticed the three four-week-old male dogs had been taken from their kennel behind their home in Ashampstead sometime after midday on 21 August.
She said another female was also taken and a fourth puppy was dumped on a rubbish heap near the house.
Police are investigating the theft and have appealed for witnesses.
Mrs Wye said the thieves had broken the locks on the kennels to get to the litter of black and tan-coloured Patterdale cross Jack Russel puppies, which are worth up to £250 each.
She said: "The mother [who was left behind] was really upset so she wouldn't look after her. She has now gone to her new owners and they have had to bottle feed her.
"Pippa, the other dog that was stolen is our main concern. We really, really want her back."
PC Tara Tanner-Ward, from Thames Valley Police, said: "The litter is very young and the remaining puppies were left very shaken by their experience."