Broadmoor Hospital £250m redevelopment plans submitted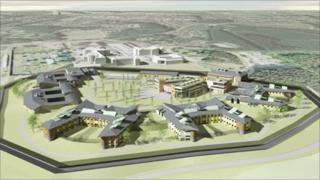 Plans have been submitted for a £250m redevelopment of Broadmoor Hospital.
The high-security psychiatric hospital in Berkshire was described as "unfit for purpose" by the Commission For Healthcare Improvement in 2003.
The Victorian listed buildings built in 1863 will be preserved with new buildings planned on parts of the site's historic woodland.
The new buildings, which will provide accommodation and a therapy centre, are planned to be completed in 2016.
Redevelopment programme director Vickie Holcroft said: "This outdated Victorian layout makes it very difficult for staff to provide modern services and treatments that patients need."
She added that the redevelopment would be paid for by the Broadmoor Hospital Trust with some funding coming from the government and from selling off parts of the land.
The new hospital, at the site near Crowthorne, will have 16 wards with 234 beds.
Marjorie Wallace, chief executive of mental health charity SANE, said the plans were "extraordinary".
She added: "Most importantly they're trying to take away the idea of imprisoning people."
Andy Hollie, from the Crowthorne Village Action Group, said residents initially had concerns about the plans to build on the woodland.
However, after consulting with West London Mental Health Trust, which manages Broadmoor Hospital, this week he said that residents were satisfied with the plans, which involve building on part of the woodland.
"They explained they are protecting the listed buildings by building the new hospital slightly to the side," he said.
"It's a bit of a trade-off, trees or listed buildings - they can't protect them all."
The plans have been submitted to Bracknell Forest Council for consideration.