Royal Mail stamps mark first airmail deliveries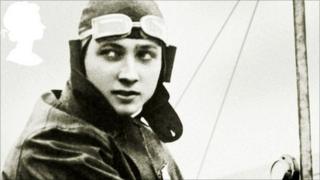 The Royal Mail has issued a new set of stamps to mark the 100th anniversary of the UK's first airmail service.
The tribute to the aviators includes a stamp marking Gustav Hamel's 15-minute flight from Hendon aerodrome in London to Windsor Castle, Berkshire, in 1911.
It was the first of 16 aerial post flights to commemorate the coronation of King George V.
The new 68p stamp shows Hamel ready to leave Hendon while a £1.10 stamp shows airmail being delivered at Windsor.
Royal Mail spokesman Stephen Agar said Hamel braved "poor weather" to ensure his cargo of commemorative postcards was delivered to the King.
He added: "As well as going down in the record books as the world's first regular airmail service, Hamel's 21-mile journey was the first step in revolutionising the way that mail is delivered across the world."
The Centenary Of Aerial Post stamps will be issued as a miniature sheet of four stamps.