Swinley Forest still scarred following devastating fire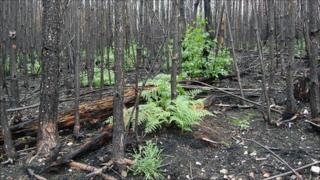 There is still a faint smell of burning in Berkshire's Swinley Forest - which was devastated by fire in May.
A roe deer steps among the charcoal-coloured trunks of the trees, where green bracken and birch saplings are poking up through the undergrowth.
Thousands of 20-year-old trees were destroyed when the 220 acres (90 hectares) of woodland near Crowthorne caught fire.
Now Forestry Commission tree-mulching machines are to mow down the burnt trees and clear up areas of the forest.
The whole operation will take more than three weeks to complete.
The Forestry Commission has announced that it will replant the affected area with 60,000 to 70,000 trees in November, February and March.
These will include '"fire resistant" broadleaf trees such as birch, chestnut and sessile oak which have never grown in the area before.
The fire in May raged for days in areas of densely planted young trees because of a combination of dry hot weather and strong winds.
Helicopters flew overhead as hundreds of firefighters, police and ambulance crews helped battle the flames.
Firefighters working at the scene when the fire was at its height said they were amazed to witness trees "crowning" or bursting into flame and igniting other trees nearby.
The forest is close to schools, roads, the Transport Research Laboratory, Broadmoor Hospital and houses.
Families' homes were evacuated when the extent of the fire was realised.
Electrical cables had to be made safe, as electricity can be conducted to the ground through thick smoke.
In addition, there was also a high pressure fuel line to Heathrow which runs a meter below the forest.
"It was a forest fire in an urban environment, which made it very serious," said Crown Estates chief forester John Deakin.
He worked 18 hour days to assist firefighters when the wildfire was at its height.
The forest continued to be used by cyclists and walkers, even when the fires were at their height.
"I remember I was helping mulch down an area of the forest on the Tuesday of the fire, " Mr Deakin said.
"It was really smoky, and we suddenly got the call to move out of the area of forest we were in, because it was too dangerous.
"I turned a corner and saw five kids running through the fire having a whale of a time.
"One of them was even carrying a stick which was on fire."