Reading council admits error over 'no cycling' signs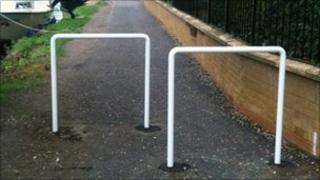 Controversial "no cycling" signs are to be removed from a path between Reading and Caversham bridges by Reading Borough Council.
Members of the Reading Cycling Forum learned at a transport forum on Thursday that the signs had "no legal status".
The Berkshire path is owned by both the council and private owners.
Chicanes have been placed along the path to slow down cyclists following complaints from people living there.
'Dangerous cyclists'
Transport councillor Tony Page said the signs had been put up "in error".
He said: "A well-intentioned person in the parks department put them up but there is not a formal prohibition on cycling there because it is not a public footpath.
"That does not mean it is an official cycle way. It is not."
According to Mr Page, residents living on a privately-owned stretch of the river between Brigham Road and Thames Avenue have objected to the path being designated as a cycle way.
Mr Page said the chicanes which had been installed on the path this week had cost a few hundred pounds and were aimed at people riding motorbikes on the path as well as people riding bikes dangerously.