A Reading training centre opens for nurses and midwives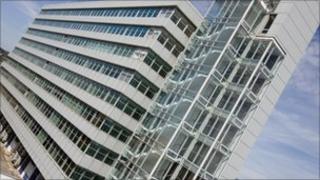 Students training to become nurses and midwives have been given a dedicated educational hub in Reading.
The University of West London, formerly Thames Valley University, opened the new centre in Fountain House last week.
In total, 1,600 Berkshire students will use the new seminar rooms, library services and learning support.
Previously students had to use outdated facilities at Thames Valley University's Slough campus, which has now closed.
'Strengthen partnership'
The hub is the first instance in which the university has provided dedicated facilities for nurses and midwives.
Students will have access to a library, the internet and learning support at the hub.
Pro Vice-Chancellor and Dean of the College of Nursing and Midwifery, Andrew MacCallum, said: "The new facility strengthens our partnership with the NHS in Berkshire and it matches the needs of our students for study and entry into the workplace."