Shinfield Road traffic lights in Reading to stay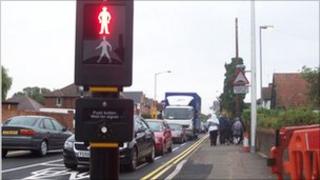 A traffic light system which replaced two mini-roundabouts in Reading is to stay following an independent report.
Reading Borough Council has been deluged with complaints about the two traffic lights on Shinfield Road since their installation in September 2010.
TRL, an independent traffic research company, has ruled out a return to the previous roundabout scheme.
However, it has suggested the council makes some minor changes.
These include alterations to the phasing of the lights, widening roads, extending right-hand turn lanes and moving bus lane lines.
Chris Wagstaff, from the Shinfield Traffic Action Group, said: "No way is this fight over."
'Accident blackspot'
Under the previous traffic system, there were three deaths on the A327 Shinfield Road in three years, which the report found was broadly in line with the national average for this type of site.
Councillor Tony Page, head of transport at Reading Borough Council, said it was the "worst stretch of accident blackspot" in the borough, adding: "I have every confidence that the new scheme will improve road safety for all road users.
"I have already said there will be changes and take the recommendations from TRL very seriously."
Since the introduction of the lights, Royals Fish and Chips on Shinfield Road has closed, blaming a decline in trade on the new road layout.
Several other shops have also attributed a fall in trade to the traffic lights.
The next meeting to discuss the road layout will be held on 1 October at Crosfields School on Shinfield Road. The final changes will be decided on 8 November.