Royal County of Berkshire Show in cow cat-walk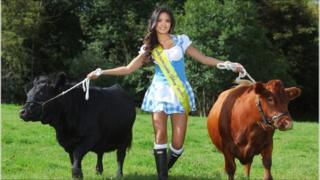 The Royal County of Berkshire Show is marking London Fashion Week with a "cat-tle walk" for its prize cows.
The agricultural event in Newbury is hosting the first National Dexter Show, featuring the smallest breed of cattle.
Two of the cows, Lady Munchington and Inky Minx, met Miss Berkshire Areerat Chorsanthiah for a photo-shoot.
The cows' owner, Felicity Wise from Wokingham, said: "Dexters are a fabulous breed with wonderful personalities."
She added that the judges would be looking out for specific traits.
"Aesthetically, they should have a warm even colour all over, uniform teeth and good spacing between the eyes.
"They should also have good posture and balance, as they will be judged on their walk."
The 2011 Royal County of Berkshire Show, which attracts 60,000 people, takes place on Saturday and Sunday. It is in its 102nd year.