Reading postman Richard Owen forced to retire at 65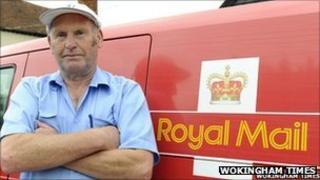 Reading residents say they will miss a loyal postman who has worked for 27 years in their area.
Richard Owen does not want to retire, but as he will turn 65 before new employment legislation comes into effect on 1 October, he will be forced to.
Royal Mail said it would only keep on people past retirement age if the role required a "specialist skill".
People living on his round said it was "sad news" for the community.
Emma Tweed, 34, who has lived in Farley Hill all her life, said she had known Mr Owen since her childhood.
'Bad year'
"He's so nice, he always stops for a chat. It seems such a shame that he can't do his job any more, because he wants to carry on," she said.
"Everyone's going to miss him around here."
Mr Owen said: "Tomorrow is my last day.
"I've seen families grow up. There's only eight people living in Farley Hill who have been there longer than I've been doing the round.
"It's been a bad year for me."
A Royal Mail spokesman said the company could not comment on individual cases but said its retirement policy was not a reflection on an individual's performance or ability to do the job.
He said: "It is open to any of our people to request to continue working after the age of 65, however this is only granted if the role requires a specialist skill or the vacancy could not be filled in any other way."