Berkshire police admit hare coursing remains a problem'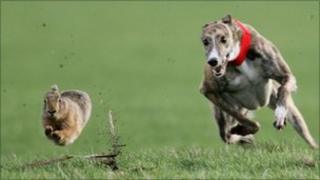 Police in Berkshire have admitted hare coursing remains a problem in the county.
Coarsing, where dogs chase hares, has been illegal in the UK since 2005.
Some farmers said they had been forced to barricade their land to stop coarsing on their farms and said the issue was ruining their land.
Police rural crime specialist Nick Gilbert said officers were working "very hard" at dealing with problems but said their numbers were "limited".
Farmer William Emmett said the police needed to do more to tackle rural crime.
'Really ugly'
Mr Emmett, who farms near Maidenhead, said: "What all the farmers have had to do is fence their properties in, dig the gateways out and put machinery behind the gateways.
"It looks really ugly but that's what farmers have had to do to secure their property."
He added: "At night-time they come with 4x4s, driving through fences, hedges, through crops.
"We've had damage done to the grain when it's almost ready to harvest."
Mr Gilbert admitted that hare coursing remained a big problem and urged anyone affected by it to report the crime to police "with as much detail as possible".
He added that the police force had four "dedicated" rural crime officers and a rural crime investigator.