Swinley Forest clear-up work starts after May fire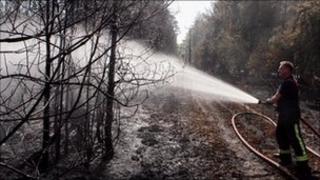 Clear-up work has started at a Berkshire forest four months after it was devastated by a large fire.
Tree mulching machinery weighing 20 tonnes will remove burnt trees and prepare 40 hectares of damaged woodland at Swinley Forest.
Between November and next March up to 70,000 trees will then be replanted, with the help of local volunteers.
Nick Hazlitt from the Forestry Commission said it signalled the beginning of a phase of recovery.
He added: "While it appears to be destructive as the burnt trees are laid to rest it is necessary to bring an end to the old and beginning for the new trees.
"There will always be some permanent reminders of the fire but this will be a very positive move forward."
The fire in May was the largest incident, in terms of resources, ever dealt with by Royal Berkshire Fire and Rescue Service.
Twelve fire crews in total attended the fire, including wildfire experts from Northumberland.
Families were evacuated from their homes in nearby Crowthorne and several roads were closed.
Businesses were also affected, with the Look Out, Coral Reef and the Golden Retriever pub closed for several days.