Martin Salter: Life after Reading West politics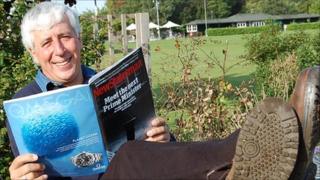 Martin Salter's talking speed has slowed down noticeably since he returned from Australia.
Still looking tanned despite returning one month ago, the retired Reading West MP has followed 25 years of intense political life with 15 months touring New Zealand in a camper van, snorkelling on the Great Barrier Reef and going into mangrove swamps looking at crocodiles.
Now he is back in Reading and for once "Martin Salter's diary has got some fantastic white space in it".
Though settling into a new "civilian" status in his home town had proved a little unnerving at first.
"Three weeks ago on Wednesday I walked down the Oxford Road for the first time not being either an MP or a councillor and I thought, 'How on earth are people going to respond?'.
"But it was the best of all worlds. People were coming up to me to say 'Hello', but no one has yet to come up to me with a problem."
Jane Longhurst
Mr Salter rose from the ranks of being a labourer in the 1970s to becoming a Reading borough councillor in 1984.
From 1997 until 2010 he was the Labour MP for Reading West, known among the local press for supporting so many community campaigns.
One of Mr Salter's most publicised campaigns was his call for a ban on violent internet pornography following the murder of teacher Jane Longhurst at the hands of Graham Coutts.
Mr Salter caused controversy after openly criticising "Sarah's Law", which allows parents to check whether someone living nearby is a sex offender.
Despite having an obvious passion for politics, he knew when it was time to call it a day.
Boy's own
"I was not going to rattle around the House of Commons in my 60s - I wanted to retire when I did at 56 to have enough energy to do things that were always on my bucket list.
"Going to the other side of the world to have a boy's own adventure was part of it."
He said that public life involved a lot of "pressure".
"You're never really off duty," he said. "You can't go to a park or a supermarket without people coming up and talking to you.
"That's fine and most people are very friendly, but it is just nice to have that time and space. I'm getting used to having weekends again."
His wife Natalie had worked out that while Mr Salter was in Parliament the couple had one weekend off in six.
Now that he is back in England he is involved with a campaign to clean up the River Thames and chairs a local schools charity that organises summer camps for disadvantaged children.
The rest of his week is taken up with gaining a teaching qualification with the aim of educating children in citizenship.
"It's nice to be a civilian again," he said.
"As one of my constituents said to me, 'You've done your shift'."