Families seek respite care after Maidenhead unit closes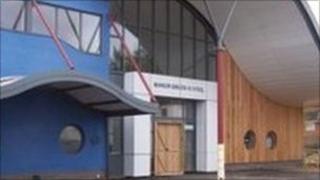 Families hit by the closure of a Berkshire special unit say they are still without respite care for their children.
Ten Berkshire families have applied for overnight respite care since the unit in Maidenhead shut in July.
The unit at Manor Green special school provided overnight care for children with severe learning disabilities.
It closed due to reductions in government funding for respite care, having been open for less than a year.
The Royal Borough of Windsor and Maidenhead has said 10 out of 17 families affected have asked to be assessed for overnight care provision.
'Independence skills'
The centre opened as part of a £26m specialist school which replaced Holyport Manor in September 2010.
Carole Streeter, whose daughter Rebecca used the unit, said she was "exhausted" since the closure of the 24-bed respite centre.
"Yesterday after I got her on the school bus, I went back to bed for a sleep. Next thing I know it's midday," she said.
Mrs Streeter's daughter suffers from a brain disorder which makes it hard for her to communicate.
"Manor Green taught them independence skills and how to make friendships. Now she's bored, she won't do anything," she said.
Mrs Streeter said although her daughter had access to a breakfast club and after-school club at her school, she would rather have overnight respite care as her daughter frequently woke up in the night.
The council said it had still not decided on its plans for the unit at Manor Green, though it said it was committed to using the facility to help people with learning disabilities.