'Concern' over Heatherwood Hospital birth unit closure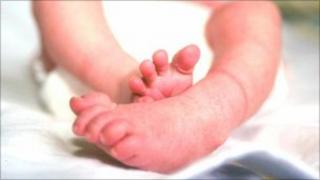 The Royal College of Midwives (RCM) has said it is "very concerned" about the closure of a birthing unit at a Berkshire hospital.
The Ascot Birth Centre at Heatherwood Hospital has had to close temporarily due to staff sickness and maternity leave.
Judy Slesser, from the RCM, said she was concerned for local midwives, staff and the women of Berkshire.
There is no confirmed date for the birthing unit to reopen.
Director of nursing Deirdre Thompson said: "We would like to apologise for any upset or inconvenience."
Heatherwood and Wexham Park Hospitals NHS Foundation Trust has the highest rate of midwife vacancies, a freedom of information request by the BBC programme Panorama revealed in July.
However, the trust is set to employ 30 newly qualified midwives which Ms Slesser described as "encouraging".
'Uncertain future'
Outpatient clinics, antenatal and postnatal care will continue as normal at Heatherwood.
Mothers-to-be who were due to give birth at the centre have been contacted to discuss alternative arrangements, the trust said.
The midwife-led unit has three rooms for low-risk mothers-to-be, and the number of mothers giving birth at the hospital averages one a day.
Julie Burgess stepped down as head of the Heatherwood and Wexham Park Hospitals NHS Trust on 21 September.
Earlier in the month Ms Burgess had outlined three proposals for Heatherwood at a public meeting.
Two of the three options involved closing the hospital.
Ms Slesser said that although the future of the hospital was uncertain no midwives would be made redundant, and would instead be redeployed in the community.
She added: "It does have an effect on staff morale.
"I think they're going to look somewhere else for job security."
The NHS Trust said it would hold a consultation on the plans for the hospital in October or November.
The Heatherwood and Wexham Park NHS Foundation Trust needed an £18m loan from the government last year.