Three deaths at Slough's Wexham Park Hospital investigated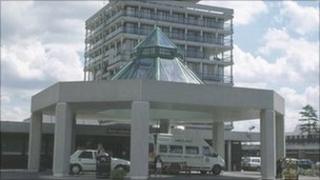 A hospital in Berkshire is investigating the unexpected deaths of three people in one month.
The patients were admitted to the emergency department at Wexham Park Hospital in Slough in August.
One died in the department while the others died after being transferred to other wards.
The trust said the inquiry was routine and that it had one of the best survival rates across the whole NHS.
The hospital said the deaths were unrelated to recent capacity issues when ambulances had to be turned away and patients were left waiting for beds.
'Safest care'
Deirdre Thompson, director of nursing, said: "Our staff are extremely focused, dedicated professionals, who save the lives of many patients each year.
"Although our mortality rate is low, we continue to strive to learn from everything we do to ensure we continue to provide the safest care for all our patients.
"Whenever there is an unexpected death, the trust classifies it as a serious incident and carries out a full investigation.
"This is normal procedure and each investigation will have a lead clinician, lead nurse and a family liaison lead."