Newbury is compared to 'dull' cheese by food critic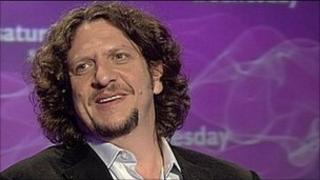 A food critic has prompted disagreement in Newbury after describing the Berkshire town as "very, very dull" and "boring".
Jay Rayner was writing in the Guardian about his favourite cheese, Emmental, which he called "the Newbury of cheeses".
He wrote that the "workhouse" cheese was similar to Newbury due to its industry and technology firms.
Newbury residents denied the town was "dull" and said it had improved.
Jeremy Holden-Bell, chairman of the Newbury Society, said: "Historically possibly Newbury was dull, but it's changed a lot in the past two years.
"We have our Parkway development opening next month which will bring a lot more shops to the area. We don't think Newbury is dull at all."
Daniel Maskell of Newbury Nomads, a local performing arts group, said there was a "strong arts culture" in the town.
He cited the area's arts venues such as the Corn Exchange, Watermill Theatre, New Greenham Arts Centre and Arlington Arts Centre in Newbury's defence.
"Obviously we're not a big town but we offer good entertainment for what we are," he said.
"If you're a real city person this might not live up to your standards, but if you want the best of both worlds, a place that's not too small, but has a bit going on, it's great.
"It's even got a cinema now. Newbury Spring Festival runs for a month with a lot of free music."
On social media site Twitter, following comments by people from Newbury, Mr Rayner wrote: "I went on to be quite nice; talked about it being the kind of town where hard work was done."
Emmental is a Swiss cheese, characterised by large holes, which is traditionally made from unpasteurised cows' milk in both Switzerland and France.