Illegally moored boats cleared from Thames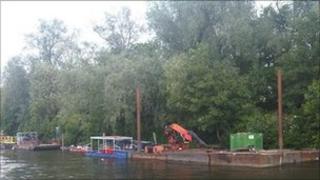 Boat owners who have been illegally mooring their vessels on the River Thames have been moved on.
Windsor and Maidenhead Council said it was responding to complaints from residents and visitors that the boats were an eyesore.
The council said it was working with the Environment Agency to remove the unlicensed craft from its property.
About 500 of the 28,000 boats on the Thames did not have permits, the agency said.
The Environment Agency has authority to licence boats on the Thames and power to seize unlicensed craft and remove them for disposal.
Councillor Simon Dudley, cabinet member for adult and community services, said: "Some of these craft were causing a great deal of distress for people living in and visiting this part of our town.
"We hope that we have seen the last of boats mooring illegally along our beautiful stretch of the Thames".
Daily charges of £8 for its moorings between Grosvenor Drive and Frances Avenue had also been introduced, the council said.