Anger at plans to close St Patrick's in Charvil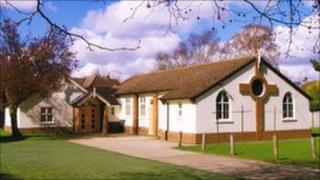 Plans to close a church in a Berkshire village have angered a number of residents.
Church authorities say that St Patrick's in Charvil has only ever had an attendance of about 20 or 30 regular worshipers in its 59 year existence.
The vicar of Sonning, the Reverend Jamie Taylor said it had never thrived.
But parishioner Nigel Mobey said it was well used by the local community adding that closing the church would "tear the very heart out" of Charvil.
'Satellite church'
The church hall is used by a number of local groups including a pre-school and the Brownies.
But the parish of Sonning, which includes the villages of Sonning and Charvil, is less than two square miles and Charvil also has a village hall.
Mr Taylor, said: "At the heart of the parish we've got the parish church [St. Andrew's in Sonning], a thriving ancient church which has served the area for a thousand years.
"In the 1950s we built a satellite church, St Patrick's, but sadly it's never thrived."
A report prepared by the Parochial Church Council said it had spent more than £250,000 in the last ten years to reach out to the people of Charvil but had not achieved the result it had hoped for and the local authorities now wished to consolidate their activities.
The consultation continues until 24 October. The Parochial Church Council will then meet on 7 November to vote on the proposal to close the church.