Theresa May criticised over police reform plans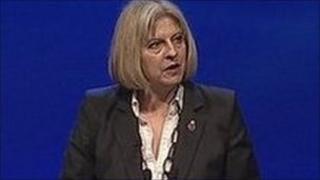 Home Secretary Theresa May "does not like police officers", the chairman of the Thames Valley Police Federation has said.
Graham Smith also called on the government to scale back cuts and abandon plans to change police pay.
But Ms May, who is also Maidenhead MP, told BBC Berkshire police who criticised plans "didn't get" the need for reform.
Thames Valley Police will lose 270 jobs after its budget was slashed by £12m.
Speaking before her speech at the Conservative Party Conference, Mrs May said she wanted less bureaucracy so police could get "out there dealing with crime and disorder".
But Mr Smith, whose federation represents rank-and-file officers, said Mrs May was "clearly wrong" to say job losses would have no effect on front line staff.
'Reduce safety'
He said: "If you haven't got people in the middle and back offices doing files for officers, that will take them away from the front line.
"That will make the street scene less secure, it will reduce confidence in policing, and eventually will reduce the safety of the community."
Responding to the accusations, Mrs May said: "I am trying to bring reform to the police.
"I am trying to give rank-and-file officers much more ability to do their job by getting rid of a lot of bureaucracy ... so they can get out from behind the desk, stop being form fillers and get out on the street.
"I'm afraid they just don't get it."