Reading Station awarded £9.6m for two new entrances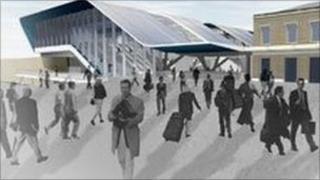 Reading Station has been awarded £9.6m to build two new entrances to the north and south of the station.
The entrances will be close to car parks, taxi ranks, cycle parks, bus stops and pedestrian walkways.
The funding from the Department for Transport (DfT) comes on top of Network Rail's £850m improvement works at the Berkshire station.
These include the construction of five new platforms. and changing the track layout of the station.
A 1.24 mile (2km) viaduct will also be built under Network Rail's plans.
This will be used by faster trains to reduce the current bottleneck at the station, where trains often have to queue for platforms or allow freight trains to pass through.
The works are planned to cut delays and overcrowding and provide more trains.
Reduced cost
The new entrances will provide open access to the refurbished and widened subway at the station, according to the council.
The southern entrance will include a public square with a car park and taxi rank while a new road junction will be built to provide access to the northern entrance.
Work is expected to be completed by April 2014.
In March 2010 the DfT gave conditional approval for the improvements to the station entrances, but this was frozen as part of the Comprehensive Spending Review.
The council said it had since reduced the cost of the scheme, which was originally £15m.
The Department for Transport expects passenger numbers at Reading station to double by 2030.
A new platform will be built for the station over Christmas for trains to Wokingham, Waterloo and Gatwick.
All platforms will also be renumbered over the Christmas break, ready for further additional platforms in 2013.
Network Rail's improvements are expected to be completed by 2015.