iPad tracking device leads Berkshire Police to stolen goods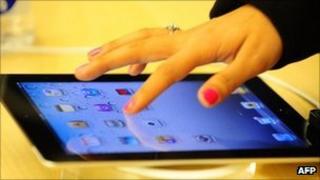 A man has been reunited with his valuables after a tracking device installed on his iPad led police to his stolen goods in Berkshire.
The victim's BMW was broken into at a car park in Meadow Lane, Eton, and a bag containing a number of items taken.
But the next day, the tracker application was able to give officers a likely location in Slough and the items were found during a raid.
A woman in her 30s has been bailed on suspicion of handling stolen goods.
The victim, who does not wish to be identified, said: "Leaving my laptop bag in the boot of the car wasn't the right thing to do clearly, and I hope that other motorists will think twice before doing so given my experience.
'Great deterrent'
"I would also encourage others to think about installing modern technology applications as there are certainly benefits as is the case here.
"I am very grateful to the police for acting on the information so swiftly and recovering my stolen valuables."
The bag, which was stolen from the car's boot last month, also contained a laptop, iPhone, passport and wallet.
Anne Chalmer, crime prevention and reduction advisor from Thames Valley Police, said: "Tracking applications for the majority of iPhones, iPads and computers are now available.
"They can act as a great crime prevention deterrent as well as provide crucial information to assist police investigations with crimes ultimately being solved and victims being reunited with their property."