Heatherwood hospital birth unit may be shut for months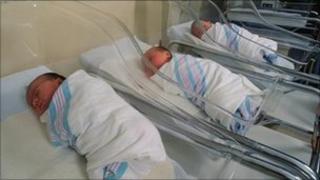 A Berkshire birthing unit, which was forced to close because of staff shortages, may not reopen until 2012.
Heatherwood Hospital shut its Ascot Birth Centre on 27 September after maternity leave and sickness left it without enough staff.
The hospital trust has contacted 600 expectant mothers warning them the unit may remain closed for months.
Director of nursing Deirdre Thompson said the closure was not linked to proposals to shut the hospital.
She said: "It is a temporary closure relating to staffing and patient safety.
"We have had an unprecedented level of sickness but a couple of those have been unplanned long-term sickness.
"I think we are looking at weeks to months. We've got approximately 600 mums-to-be who could choose to use our services so to reduce anxiety we wanted to make contact with all of them."
Ms Thompson admitted the hospital had warned expectant mothers that the unit may remain closed until January.
'Alternative arrangements'
Kathryn Gadd, of Ascot, had been due to have her second child at Heatherwood in January. She said: "They weren't positive that it would reopen. It was almost a case of 'don't hold your breath' so I was contacted to make alternative arrangements."
Heatherwood and Wexham Park Hospitals NHS Foundation Trust has the highest rate of midwife vacancies, a freedom of information request by the BBC programme Panorama revealed in July.
There are proposals to close Heatherwood and on 21 September the chief executive of its NHS trust, Julie Burgess, resigned.
The trust is offering tours to expectant mothers of its birth unit at Wexham Park Hospital.