Stagecoaches begin 113-mile Windsor to Warwick trip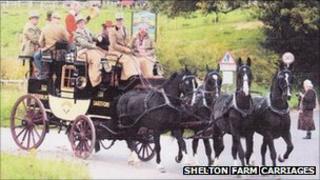 Two horse-drawn stagecoaches are embarking on a 113-mile journey from Windsor Castle to Warwick.
The 19th Century-style coaches are making the trip to raise money for Help for Heroes and The Household Cavalry Operational Casualties Fund.
The five-day fundraising journey will take them through Berkshire, Oxfordshire and Warwickshire.
In 2010 the coaches made a similar trip, 100 miles from Knightsbridge in London to HMS Victory in Portsmouth.
The English road coaches - Nimrod and Monarch - were due to leave Windsor at 13:00 BST.
On the first part of the journey, Nimrod will be drawn by four horses from the Coaching Troop of the Household Cavalry.
Monarch will be drawn by British Hackneys, which are on the Rare Breeds Survival Trust list of endangered species.
The group will make overnight stays at coaching inns along the route, which will take in Henley, Dorchester-on-Thames, Stanton Harcourt, Hook Norton and Kineton.
They are due to arrive at Warwick Castle's central courtyard on Friday.